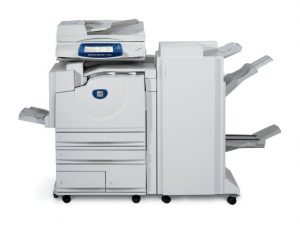 If you are looking to lease a Xerox copier, we can help with this new copier acquisition.   We can help you get a small desktop copier to a full sized production level copier.
For a small office, the common Xerox units would include:
B&W – Xerox WorkCentre 3655, Xerox Versalink B405, Xerox Versalink B605
Color – Xerox Versalink C405, C505 or C605
Higher volume offices would benefit from one of these copiers
Black and White: Xerox Altalink B8030, Xerox Altalink B8045
Color: Xerox Altalink C8030, Xerox Altalink C8045, Xerox C60, Xerox Altalink C8070
How Much Do Xerox Copy Machines Cost?
We love to help businesses who are looking to get a copier that is right sized with their needs.  For some people this can mean getting a smaller copier than they expected to, for others it may mean getting a bigger and more expensive copier than they were thinking.
The typical cost range is $30 per month to about $225 per month, depending on what your company needs.  We hope you will get a hold of us so we can help you find the perfect copier for your business!
One of the advantages of leasing a Xerox copier is their great service and their special programs like the Total Satisfaction Guarantee.  This guarantee ensures if you lease a Xerox copier, you are not going to be stuck with a lemon.  It covers all of the industrial copiers and even the desktop copiers when under a service contract.
Some of the Sample Models of Xerox Copiers Include:
Xerox WorkCentre 7830, 7835, 7845 & 7855
Each of these series have different costs, different strengths and different weaknesses.  We work with you to help determine a good fit as we know every company we work with is different.  We have the service plans you want, where all the supply items and maintenance calls are covered at one low cost.
We would love to discuss with you how to purchase or lease a copier from us.  We sell Xerox copiers to businesses all over the United States.  Please give us a chance and we will do what we can to earn your business!
Give us a call or fill out our form to lease a Xerox copier for your business!