Are you looking for a copier or multifunction printer? Do you want to know some of the tips and tricks about the copier leasing process? We are here to help. We have been helping companies lease copiers for their offices for many years.
In this article, we will discuss some of the important considerations when leasing your next office copier and give you the knowledge you need to start the process today!
How to Acquire a Copier
Leasing a copier is one of three common ways to get office equipment. The other two methods (not discussed here as they are rare) are outright purchase of the copier and rentals. This article centers on helping those looking to lease a copier.
In addition to a copier lease, you'll likely have a supplies and service plan, which will take care of the following:
Ink
Service
Parts
Labor
Delivery
and more.
So what we're talking about is getting the physical equipment into your office through a copier lease. We are putting this page together so you feel comfortable with the copier lease process and some of the questions that could come up.
How to Calculate Your Copier Lease Rate
Calculating a copier lease is normally done by your dealer. You will generally get a monthly payment which you can look at and determine if it works for you. The reason most of these numbers are not published and readily online is that most dealers, work with up to 5 different leasing companies, all of whom have different rates based on your company credit, history, etc.
The dealer will factor in what lease term you need (the most common being 5 years). A solid dealer will also look at the available options, pick the one with the best rate (which makes them more competitive with a lower price for you) and present that as your monthly cost.
The rates given by leasing companies tightly correspond to the market interest rate and inflation. In the current market, the rate factors are a little higher than they were a few years ago because the interest rates are higher in the market. We take the total cost and multiply it by the rate factor a bank gives us to come up with a monthly payment.
Types of Copier Leases
A Fair Market Value (FMV) lease means that at the end of the contract, the copier gets returned to a warehouse, and then you'll be responsible for the shipment of the copier to that warehouse. Of course, most dealers will help you get the copier returned, but it is ultimately your responsibility to ensure the leasing company gets the copier back.
For those uncomfortable with that arrangement and who are willing to pay a little more per month, leasing companies also have a $1 Out leasing option, which means at the end of the lease, you pay a dollar, and the copier now belongs to you, no shipping the copier back required.
You have different rates on the two lease types because, on the Fair Market Value (FMV) lease, you're giving the copier back, and there'll be a value to that. This makes the monthly payment lower because you get a bit of a discount as the lease company factors in the return value.
The $1 Purchase Option lease lets you keep the copier, which is gets factored into the pricing because the leasing company knows they will not be getting the copier back to resell to another client as a used device or a rental.
What Type Should You Choose?
We believe this chart will help you determine what copier lease you will need and help you make the right choice with your next copier lease.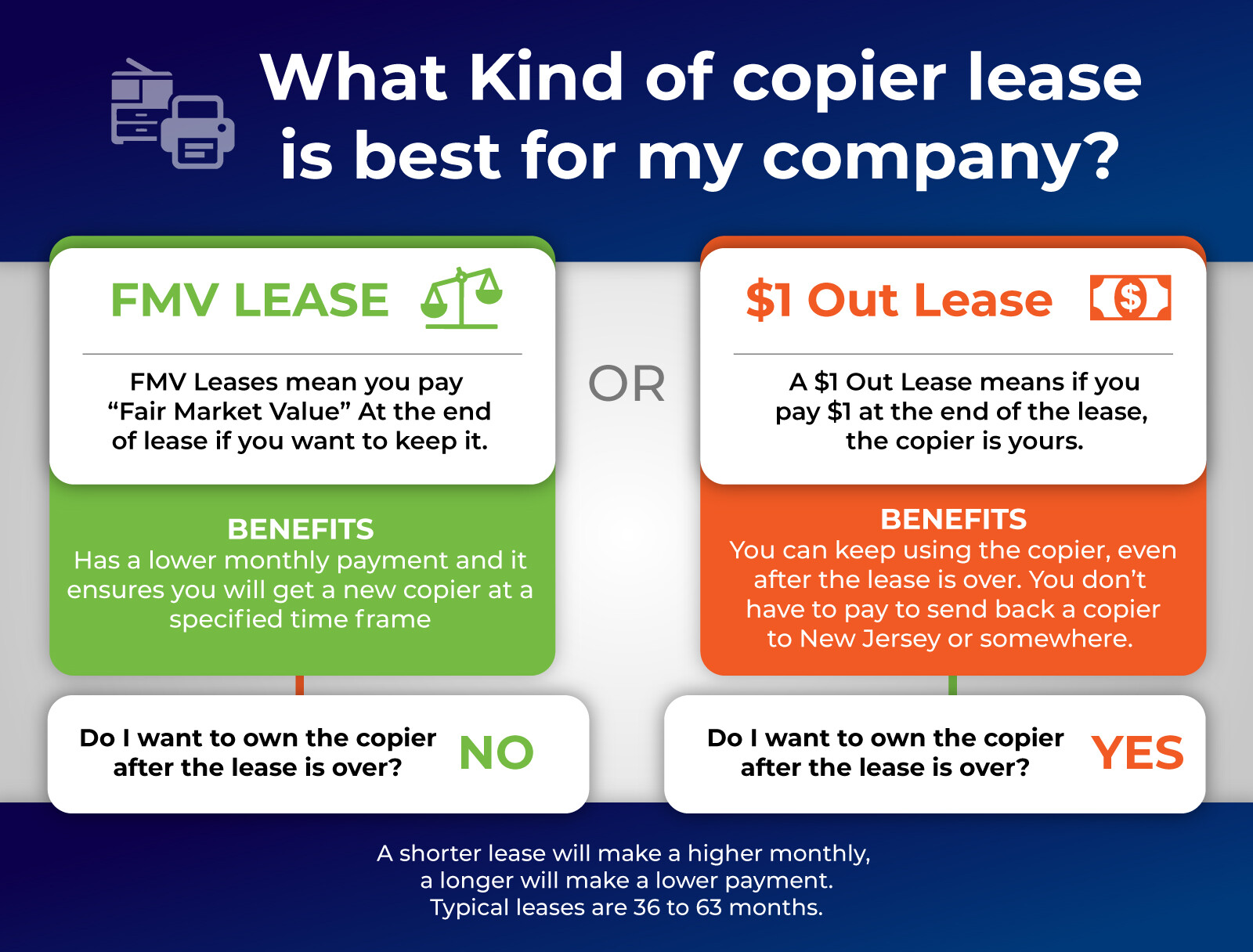 This is not a "One-size fits all" question. The type of lease you choose depends of your goals.
Some people need a low monthly payment, while other people want to run the copier as long as possible. These desires need to be considered and then the lease type that supports the goal should be chosen.
Automatic Renewals
An automatic lease renewal is triggered when you reach the end of the copier lease, without notifying your current lease company of your desire to complete the lease. If the notification is not given, the leasing company has the right to continue leasing the copier to you for an additional term (could be 1 month, 3 months, or even a year). This new term you are obligated to, because it is part of the lease agreement.
If you would like to avoid this situation, there is a simple and effective solution. Take note when your copier lease ends, and we suggest even marking it in your calendar because it is going to be 4 or 5 years away, so the odds you will remember are quite low.
A safe amount of time to have this pop up to start the process for your next lease and notification to your current company is 3 to 6 months before the current lease ends. This will help you avoid having a contract renewed automatically.
Automatic Escalation Fees
One of the other things to look for within a lease is automatic escalations. These are normal and industry standard, because as copiers get older, they need more service. This service costs more money. The purpose of the escalation is to ensure the servicing dealer has the resources to keep your copier running at full capacity for the entire contract. The only key here is to make sure they are in line with market averages.
Our view is anything over 15% is extremely high and should be questioned. Perhaps your copier will be in an extremely dusty environment, so, in that case, it makes more sense. When the percentage is lower than 15%, you can determine what you are getting for your money. Our percentages are normally in the 7% to 10% range, depending on the device.
Coverage Limitations
The next thing you should pay attention to is the idea of coverage limitations. You will find this on the supplies and service agreement.
Toner is like gasoline in a car. When you drive, you expect a certain number of miles per gallon of gas. This is similar to your copier. Each toner cartridge should be able to print a certain number of pages. Like a car, conditions can affect efficiency (highway vs bumper to bumper) and this affects your price to drive.
With printing, there is standard print vs brochures and heavy graphics which affect how many pages a print cartridge is able to print. The more color on the page, the fewer pages that cartridge can print.
When you see a toner cartridge yield rating, like 10,000 pages, this is based on 5% coverage, per color. The yield ratings are based on how many pages you can expect to print if every page had 5% of the page's surface area covered with that color.
What happens on some leases or some service plans is that if you exceed 5% or above 20% color coverage, then there can be a multiplier added to compensate for the toner usage. So, if it turns out that you're averaging 30% or 40% coverage, instead of 20%, your color rate can rise by 1.5 to 2 times.
Be aware of how you print, or if you are only printing heavy graphics because it can affect your cost per print. Out of all of our customers, this is an issue that even has to be addressed less than 2% of the time. The issue is not common, but it is important if you are part of the rare exception.
Overage Charges
An "overage" print is any print that exceeds the included base contract. This could mean your supplies and service plan includes 5000 color prints and so printing 5001 in color would be considered an "overage print" in terms of how the service plans work.
These are generally pretty straightforward, it is just important to know what they are and how it can change your expected spend on a monthly basis. If color prints on a specific unit are 7 cents a print (prices vary on units pretty dramatically, so this is simply an example), and you do 6,000 prints rather than 5,000 color prints that are part of your monthly base, you would see an additional charge of $70.
What Base Should Sign Up For
We would suggest (if your monthly volume seems to be fairly consistent), choosing a number that is about 80% of the average in color and black and white to have included as your base. This will get you the lowest cost per print without risking paying for a lot of pages you are not using.
So the idea is to pay for what you use, don't pay for what you're not using. If you sign up for 100% or 150% of the average, then you would expect to pay for a lot of prints you never printed. 80% is a much safer number.
Why Higher Copier Speed Isn't Always Better
It sounds kind of strange, but one thing to keep in mind is the more small jobs you have, the less that speed matters. The more long jobs you have, the more speed matters. If you're doing 2,000-page reports, 1,000-page reports, or even 200-page reports – a faster copier is more desired.
If you are doing a lot of 1 to 5-page print jobs, focus your budget on other accessories or color enhancements, or software solutions over increased speed.
That's something to keep in mind: the longer your jobs are, the more essential speed is. The shorter your jobs are, the less important speed becomes.
Duty Cycle Considerations
The duty cycle is a copier measurement centered around how robust the machine is in the most extreme environment. One thing to be aware of is that duty-cycle is not synonymous with recommended usage. The duty cycle is the most extreme output the copier can handle. If you see a duty cycle of 40,000 pages a month, it does not mean you should be OK if you do 30,000 pages a month.
Recommended workloads tend to be about 10% of the duty cycle number, so 4,000 pages a month would be the expected recommended workload. Of course, this varies by model, but it is a useful rule of thumb.
If you would like to get a copier and feel like you are now prepared to have a more thorough discussion of your needs, we would love to help. Give us a call or fill out our web form today and we would love to help!
You'll Get a Real Quote in Under 2 Minutes!