Getting the Right Multi Function Printer for your office
You are in the market for a multi function printer and are unsure what to get. You know there are inkjet printers, laser printers and single function devices too for just printing. How do you decide what is the best MFP for your office? We want to go over that.
We have been selling copiers and multi function printers (MFPs) for years. We help client standardize on the right device if they need multiple units. We focus on Xerox, Canon, and HP for the brands of devices we sell.
By the end of this article you will know what to buy, why to buy it, and have a good idea of what it should cost.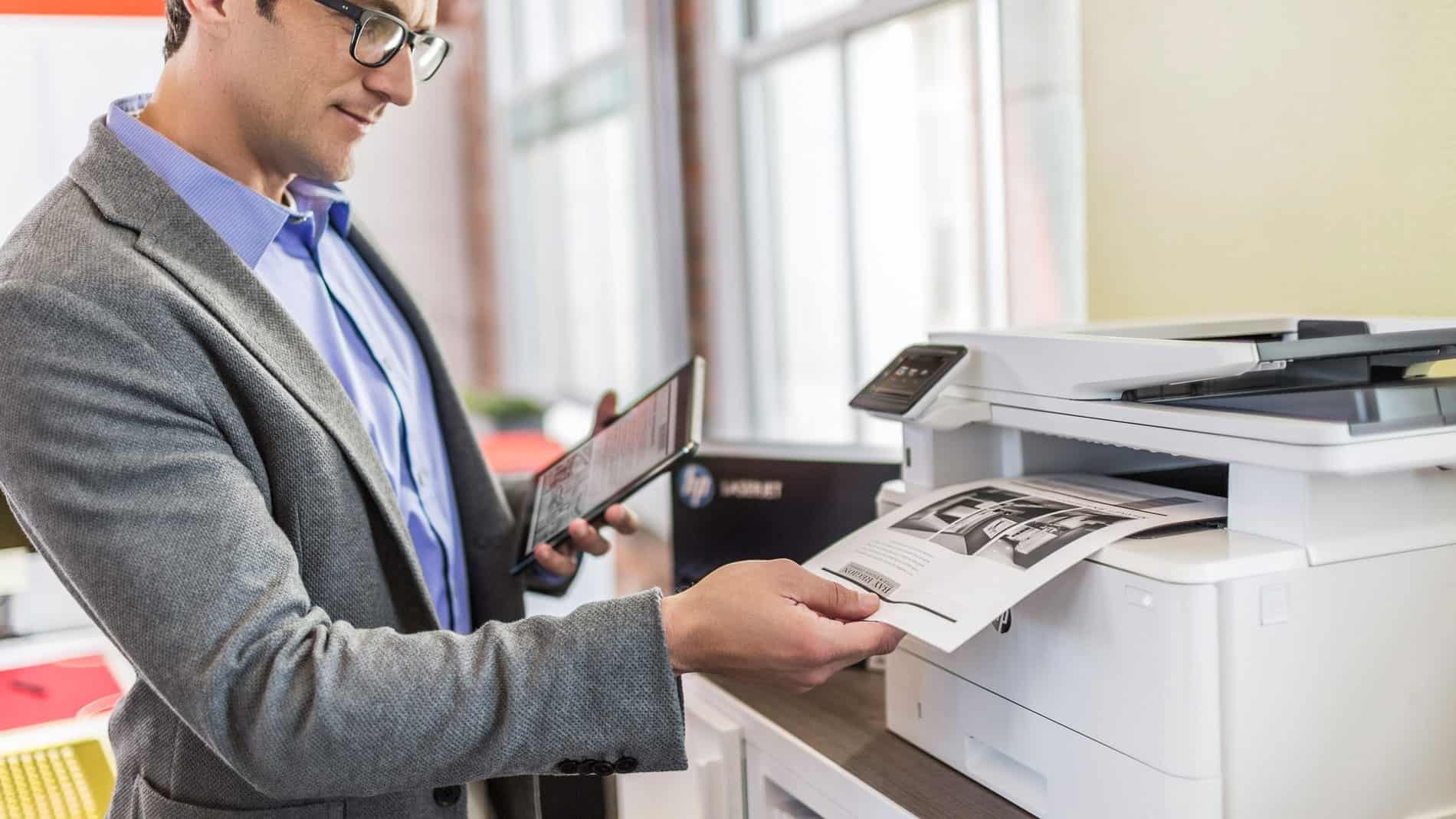 What to Buy:
Before you go buy a printer, you should consider how much you will print. This is an important step because if you are simply printing 20 pages a month, a standard HP officejet pro could be good for you. They are cheap and, yes, the cost per print is high, but who cares? You barely print in the first place. If a print costs 2 cents or 10 cents each, it doesn't really matter. We are only going from 20 cents to 2 dollars a month in that example.
Another thing to consider, besides print volume is, do you want color or black and white? Color laser printers are lot more cost efficient per print than black and white printers. Again, when we are talking 10 pages a month, does it matter if it is 10 cents or 50 cents a page?
Where you want to move from inkjet to laser is when you know you are printing a decent volume of pages. We would say anything over 500 pages a month in black and white or 100 pages a month in color.
The only thing you will probably have to deal with on your inkjet cartridges is the fact they can dry out without being used consistently. So if it is rated for 400 pages, you may only get 200 pages out of it.
If you print any volume at all, get a laser multifunction printer. Not an inkjet!
Why multifunction rather than single function?
The why to buy a multifunction printer really is all about copy, print, scan and perhaps fax. If you need to do multiple functions, then having just a printer doesnt really work.
If you need the capability to scan, or scan to a network share, this will matter too. Some MFPs connect to just a computer via USB where others are wifi or connect to the network via ethernet.
Again in this scenario, the more you print, the more you will want a network connected multifunction printer. We would obviously suggest a multifunction laser printer if you are doing more color or volume. Something like a Xerox Versalink C405 or Xerox Versalink B405 or HP Color Laserjet Managed E47528f for another color option. Here are some good options to look at…
You will want to look at the speed of the copier too. Does it copy at 20 pages a minute or 35 pages a minute? The more you do, the speed is helpful. We think for most people, 25 to 45 pages a minute is plenty fast. Check out all our products.
With a color copier, you have to deal with multiple ink cartridges or toner cartridges. There is cyan, magenta, yellow and black. If you are short of ink on one of the colors, the whole device stops working. So, if you get a color device, this is something to be aware of and have a spare on the shelf for this reason.
These devices are not suitable for production print or generally for 11×17 paper. When referring to a multifunction device, it is generally an A4 copier that sits on the desktop Not a big floor standing device.
What will it cost?
You should expect to pay less than $100 for a cheap inkjet multifunction printer. The higher end laser multifunction printers are in the $5000 range. A good middle of the road laser is about $1500. The more robust units, like a Xerox Versalink C605 or Xerox Versalink C505 are also able to be leased on a monthly program.
This can make a lot of sense when you have higher print volume. Why?
Let's go back to the initial examples. If you print and it costs 2 cents a page or 10 cents for a black and white print. Now rather than 100 pages, you are printing 2000 pages a month (4 reams of paper.) The injet now costs $200 per month to print. The laser printer is $40 per month. A lease would be around $30 to $60 per month. If you choose the more expensive one at $60 and add the $40 it is now $100 rather than $200 for the inkjet.
Now you would improve your speed and quality and reduce your costs by 50% by getting a laser multifunction printer.
In the color example – If you do 1000 color prints per month and it is 10 cents each, that is $100 for supplies. If you paid 50 cents (common with inkjet printers) then you would be paying $500 per month. For $400 per month, you could lease a production level copier which costs $20,000. We aren't suggesting this, it is the level of waste we are highlighting. If you got a copier that leased for $80 per month, add in the $100 – you are under $200 per month rather than paying $500 per month.
We would like to wrap up by saying, you need to think about how much you print, do you need color and do you need single function or multifunction. The more you print, the more you should go with laser, and if you barely print, inkjet is more for you. We don't really deal with the inkjet multifunction printers, so if you need that, we would suggest a big box store.
If you are doing at least 500 black and white pages or 100 color pages a month or have multiple locations we would love to help you get the right multifunction for your company! We are here to help!
You'll Get a Real Quote in Under 2 Minutes!