Knowing how to fix a paper jam is a skill that everyone in your office should know how to do. It is an easy thing to learn any basically everyone has experienced a paper jam at some point in their life. We have put together this nifty guide to help you know what to do when fixing a paper jam.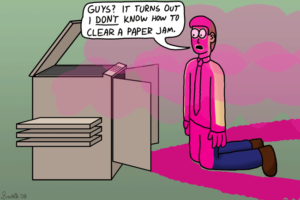 The first t hing that we want to note is that you do not want to get angry when fixing a paper jam. We know that is always seems to come at the most inconvenient times, but being agree could cause issues. Make sure you are being careful to follow these directions and not mess around too much with your machine.
Find the source of the jam. This will be caused by a piece of paper getting caught somewhere in the machine. Check the paper tray first, as that is where most paper jams come from. If you don't see what's causing the problem then you may need to open the machine.
Remove the paper. Be gentle and do not yank or jerk the paper. Paper jams are easy to fix but if you aren't careful you could damage your machine further.
Double check the paper tray. Do a once-over once you've removed the jam. Check to make sure there aren't any scraps left behind. You don't want to be fixing the same problem again because of something you missed.
Run a cleaning program. This will remove any scraps that may be left behind. It will also remove dust from the brushes and help your next print look great.
If you follow these instructions then your copier should be fine. However, if you are still experiencing problems then you may want to reach out to your copier leasing company. Your machine may need maintenance.
You'll Get a Real Quote in Under 2 Minutes!