The Xerox WorkCentre 5655 Copier is very easy to use and is capable of high demand printing. This printer has a printing speed of 55 pages per minute and a duty cycle of 200,000 pages per month! This copier is great for any type of fast-paced business that has tons of copying to make a day.
This copier has an accessible paper path so that you can remove any paper jams yourself without having to call for a tech every time you get a jam.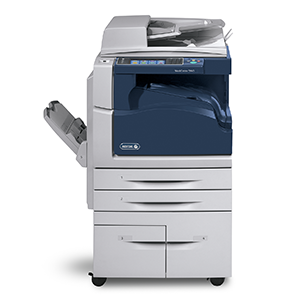 Most printers have components that will eventually wear out. We have easier ways with these types of printers to make replacements on parts that are no longer functioning properly. This makes your copying needs that much easier.
Technology is ever growing and changing and we make sure that all of our copiers are up to date with the best tech in the industry. You can download apps direct from the Xerox app gallery including Dropbox and scans directly to your computer. This copier has built-in Wi-Fi Direct connection that lets you print from your mobile device without having to connect to a network, which makes copying from anywhere in your office building even easier.
Xerox offers print management resources for your business if you need it. There are so many features that you can add on with your copier that makes your daily workload easier than ever. We can help you find the resources that you need to improve your business.
Learn how to lease or purchase the Xerox WorkCentre 5655 Copier here
Call us today and we'll help you with all of your printing and copying needs.  We are authorized and have been selling copiers for 10 years and we would love to help your company!
You'll Get a Real Quote in Under 2 Minutes!