When it comes to copiers, you may be in the market for a new one that can help your office add to its productivity. You can choose to buy one with a bank loan, but you have many advantages that come with leasing. Many business owners choose to lease because of how it grants them a higher level of flexibility. In fact, when you sign up through us, we can get you an amazing cost-per-print plan that will help you to save thousands of dollars each year.
Xerox Versalink C7025 Color Copier

The Xerox Versalink C7025
You have some distinct advantages that come when you choose the Xerox Versalink C7025. This copier comes with all the most standard features like scan, copy, print, email and cloud. You also have some optional features that could help your business perform better like finishing, walkup fax, Xerox Integrated RFID Card Reader and wireless network adapter kit. You have plenty of reasons to love this machine, and it comes with a host of productivity specs intended to take your office to the edge of its capabilities.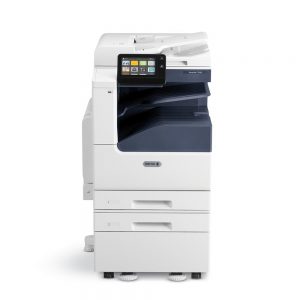 In terms of monthly print volume output, this copier gets the job done well if you will print anywhere up to 6,250 pages. When it comes to color pages, you can get up to 25 pages per minute. For black and white, you can print off 25 pages per minute as well.
Who Can This Copier Help?
Let's say that you have tried to get a business loan to buy a copier, but you have struggled with a flurry of rejections. When you lease through us, we can help you to get the Xerox Versalink C7025 for low monthly payments. You can get approved within 24 to 48 hours and get your business going. Most people when they come to us for buying a copier, they don't come to us with the purpose of buying it out of passion. They buy it because they need it to help the office run smoothly.
The Xerox Versalink C7025 allows for the maximum level of sustainability. You have a state-of-the-art printer that will come with the maximum level of security. This copier will protect you from the most sophisticated threats, and at the same time, you can boost your workflow. What a lot of business owners don't realize is that copiers like this can prove an invaluable asset that can help you to earn more money.
You'll Get a Real Quote in Under 2 Minutes!