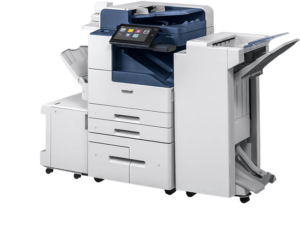 We provide copier leases anywhere in the USA.  We are an authorized Xerox reseller and can provide your company with the best Xerox leases out there.  We currently are leasing the Xerox Altalink and Xerox Versa link copiers along with some of the Xerox WorkCentre copiers.  Do you need a copier lease on a Xerox, we can help!
Some of the models we are currently leasing include the following:
Xerox Altalink C8030
Xerox Altalink C8035
Xerox Altalink C8045
Xerox Altalink C8055
Xerox Altalink C8070
Xerox Altalink B8055
Xerox Altalink B8045
Xerox Altalink B7035
Xerox Versalink C605
Xerox Versalink C505
Xerox Versalink C405
Xerox Versalink C7020
Xerox Versalink C7025
Xerox Versalink B605
Pretty much about any Xerox copier, we can help your company get a lease for it!  We are based in Denver, but do nationwide copier service.  We would love to work with your company!
We include the supplies and the service in our plans and work hard to get you fair pricing on your services.  If you have any copier lease questions, we would love to help you out!
You'll Get a Real Quote in Under 2 Minutes!