Have you heard the term Xerox ConnectKey but not really sure what it means?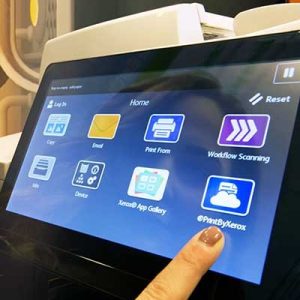 Let's break it down into simpler terms and answer some questions you might be thinking.
Why should I buy a copier that has Xerox ConnectKey?
The main advantage is that your copier will be enabled for both mobile printing and cloud connectivity. This means you can print from your Android mobile phone or tablet from anywhere in the office.
Is it hard to understand how to use?
New installation wizards streamline setup to get you started with little or no IT support. Common functions work similarly on every machine so users learn once and apply fleet-wide.
How do I use apps on my copier?
Download apps directly from the Xerox App Gallery and customize your copier interface to keep the apps you use most front and centre. Click on the app once downloaded and you're ready to go.
What if I'm not very technology minded?
There is no need to worry. With the new bright, bold copier interface you can easily navigate your way through the options available on the copier touchscreen.
In a nutshell you'll work better, faster and smarter with consistent user experience, mobile and cloud connectivity, easy automation, benchmark security and access to a growing library of apps to expand functionality and boost productivity!
Want to know more? Give us a call; we would love to help you.  We are authorized and have been selling copiers for 10 years and we would love to help your company!