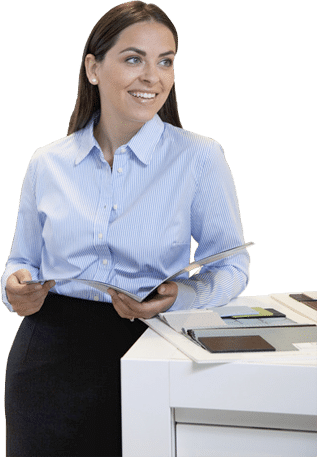 Potential Features of a Leased Xerox Copier
Xerox copiers offer numerous great features. Want to lease a Xerox WorkCentre 7845? We have a nationwide copier service network that guarantees the least amount of downtime. Featuring advanced colors and precise controls that produce accurate color that brings your prints to life, Xerox's low-melt toner achieves the minimum fusing temperature for a glossy output.When scanning in color, crucial aspects such as highlights and signatures will be more readable, which leads to greater professionalism and credibility. Want to convert paper documents to electronic files? Xerox supports conversion to formats including:
Xerox leads to greater PDF capabilities, organization, digital archiving and searching. With this brand, you can scan faxes, emails and send files to multiple destinations seamlessly. In addition, Xerox's hard disk encryption ensures security at all times. Secure Print stores jobs in a separate queue until you choose to print it. Entering a User ID, you can send jobs to the printer to release after authentication.
Another excellent feature of Xerox includes mobile printer, which provides users with greater convenience. What does mobile printing entail? Mobile printing involves sending print jobs from all email enabled devices. When printing multi-page documents, you can place the finishing touch on it with automatic stapling and hole punching.
Want the edge in business? A Xerox lease gives you the ability to upgrade your copier as soon as it becomes outdated to keep pace with larger competitors. Leasing gives you access to the most advanced equipment without having to drop top dollar on it. In addition, you will be using Xerox, which is one of the most reputable brands in the industry.
You'll Get a Real Quote in Under 2 Minutes!