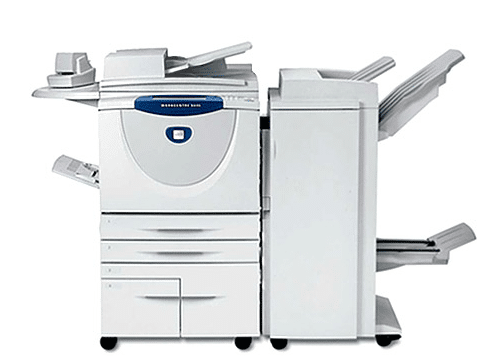 Tabloid color printers part of the i-Series, these smart multifunctional printers feature Xerox ConnectKey Technology that has excellent productivity, mobile and security features. You will also have access to the ConnectKey Apps, which are highly convenient, and you can print, scan, copy, fax and email as needed. The listing price is $6,999, and you will have all the standard functions. This copier is better for the small office considering that you can only print 20 pages per minute in color and 20 pages per minute in black and white.
Some of the optional features that you receive with this copier include the walk-up fax, and the Xerox Integrated RFID Card Reader. Featuring a duty cycle of around 50,000 images every month, you have something that will give you the best in the office. You will also receive a maximum print resolution of around 2400 x 600 image quality to guarantee the best quality prints for your customers. Some of the connectivity features include high-speed USB, Ethernet and optional Wi-Fi. The device memory comes in at 2 GB, and you have a 1 GB page memory. You can print the first page in as fast as 8.4 seconds in color, and when you print in color, it will print out as fast as 7.1 seconds in black and white. For the paper tray, you have two trays, which will both hold 1,040 sheets of paper. The tray holds 520 sheets and the second tray will hold 520 sheets of paper. To learn more about these copiers, contact Copierleasecenter.com.
You'll Get a Real Quote in Under 2 Minutes!