Copier Leases for Your Business
Nationwide - Hassle Free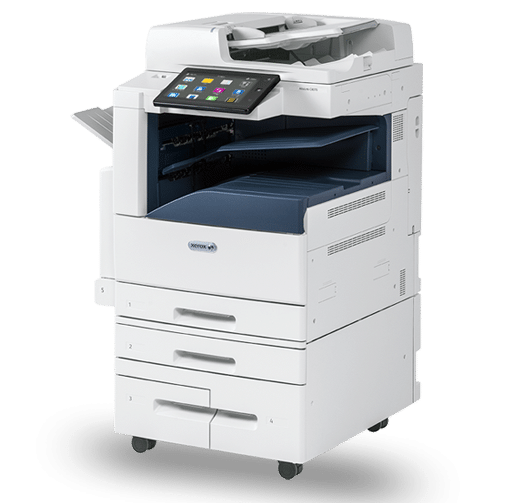 FIND COVERAGE IN YOUR AREA
We Make Leasing a Copier Super Easy
Learn everything you need to know before signing your next copier lease
Choose your needed specs for a printer or copier, we instantly give you a quote based on your selected criteria!
See how the office equipment prices are calculated. Free copier or printer lease calculation tool.
Some of Our Most Popular Copiers and Printers
Copier Leasing ANYWHERE in the USA!
Common Questions Answered, in an INSTANT!
Buying or leasing a copier is totally up to you.  If you buy the copier, you don't have the copier lease payments, just the supplies and service pricing.  This is generally more of an accounting decision than it is a "you must do it this way" kind of question.  We can help you with either and work to help you know what you are signing up for at the beginning.
Leasing a copier has tax breaks, but the main reason people lease is that it is a low interest way to get a $6000 to $10000 copier on site without all that money leaving your bank account like a normal purchase.  You can pay a set monthly rate and keep your cash for important stuff like growing your company.
If you choose a service plan from Copier Lease Center, the supplies, the parts, as well as the service are all INCLUDED as part of your package.  We send you all the supplies you need, you just pay one low bill for the prints you made on your copier.
We cover the entire USA with Factory Authorized and trained technicians.  Our service works amazing for companies in remote locations or who have multiple locations throughout the USA.
We cover the entire USA with Factory Authorized and trained technicians.  Our service works amazing for companies in remote locations or who have multiple locations throughout the USA.
Paper is NOT included as part of our standard agreement.  You purchase your own paper from whatever supplier you wish.  We take care of the rest.   
Technically, yes.  What happens in this situation is the remaining balance can be moved into the new copier for you.  One thing we see more often is the company will simply get a smaller device to handle the workload and to ensure there is a backup copier onsite.  Can you afford to be down for a day if your copier breaks?  We can help you if you have a lease now and still want to get a new copier.  All we need is the lease buyout amount from your currrent copier leasing company.
The typical service time for your printer or copier to get service is next business day.  In metro areas with better coverage, that can be a bit faster, in remote areas, a bit slower.
No.  Parts are covered as part of your standard supplies and service agreement on our copier leases.  We make sure you don't get surprise bills for parts or labor.  The only exception to this is if you have 3rd party networking equipment (for example a router) that you need to swap out.  We would not cover any of the hardware that is part of the network UNLESS you bought that from Copier Lease Center.
If you are a Mac user, that is not an issue at all for us.  The one thing you will definately want is the Postscript module.  This will make the printing and scanning much easier.  A lot of the copiers already come with Postscript - the exceptions would be the Versalink C70XX Series as well as the B70XX series.  That being said, it is still an option for you at an additional price. Postscript is the necessary module for an office copier to work with a Mac computer.
If you get to the point where the printer or copier is no longer needed, the equipment lease would still need to be fulfilled, but we are able to cancel the supplies and service agreement for a 1 time charge of $199.
We believe in options.  If we combine the lease and the supplies and service or maintenance, and you need to change your service plan (up or down) it is a lot more complicated and even carries cost to do it if they are together.  When we seperate the charges, we are able to adjust the monthly supplies and service on the fly because we bill this ourselves and we are able to work with you to help you have the best plan for your business.
One of the ways we help to ensure the installation isn't too expensive is we have the copier installations done remotely with a highly trained team.  This process has gotten much easier as more and more copier lease clients got used to using tools like Zoom.  This cuts down on the labor time for our staff and the costs because a person isn't required to physically go onsite and we are also able to use our best staff for each customer no matter where they are located.  If a physical person is needed, we still schedule that too, but things have progressed much in the copier world over the past 5 years to enable remote installs to not only be the cheapest way to install the copiers, but also the most efficient and the most convenient for clients who can schedule these installs when they have time in their schedules.
Printer or copier leases typically go from 36 months to 60 months. There is also Fair Market Value - FMV (operating lease) or $1 Out (capital lease) copier leases.  These two factors, the lease term as well as the type make a difference in your monthly payment.  For example a 36 month printer or copier lease is more expensive on a per month basis than a 60 month lease (the principal is spread over a shorter duration.) Similarly, a FMV lease is cheaper than a $1 Out lease because the $1 Out lease you get to keep and the FMV leased copier goes back to the copier dealer or leasing company.
When it comes to copier leasing, there are essentially two types of leases. The first, and by far the most common is called a Fair Market Value - FMV lease (or operating lease). In this lease, you send the copier back to the copier dealer at the end of the term. The most common length is 60 months.
There is also a lesser known $1 Out lease or Capital lease. Under this lease type, you pay $1 at the end of the lease term and now you own the copier. We also would call this a lease to own plan.
We lease more than just copiers, we also lease business printers from multiple brands. If you need a printer lease we can help and would be happy to get you a price plan which can include all of the printer repair, maintenance and toner so you pay a simple cost per print for your print operation.
We cover the entire USA with printer and copier leasing. So, no matter where you are, we will have technicians near you. So if you are asking where can I get a printer lease or a copier near me, Copier Lease Center is your answer.
Our team has helped clients from New York to California, and from Florida to Alaska. Some remote areas may have service that is slower to arrive due to lower coverage, but we can work with clients anywhere in the USA, which is perfect for enterprise companies with locations nationwide. We lease printers and copiers nationwide.