If you have been shopping for a new copier for your office then you may have noticed that there are two different copier types. A3 and A4 copiers have a drastically different price range, yet not every shopper knows what these numbers mean. Copier Leasing Center is here to make copier leasing easy and help you answer the question of whether or not you should get an A3 copier.
A3 copiers are not the right fit for every business. A3 copiers are more expensive because they are bigger, and typically more powerful than you A4 copier. A3 copiers have tabloid printing ability, which is the ability to use prints that are 11" x 17". Tabloid prints are twice the size of traditional A4 prints, which are 8.5" x 11".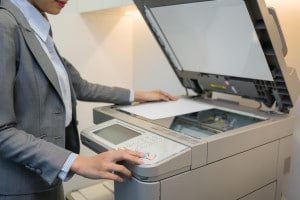 Tabloid printers are a great deal more expensive than A4 copiers, yet people who never use tabloid prints still end up with them in their offices. This is usually a costly error, as they will almost never use the features they are paying for. Some business owners buy A3 copiers simple because they look more powerful and impressive than their A4 counterparts.
A3 copiers are traditionally more important for either design or media companies that do a variety of multicolored prints. Tabloid copiers give more ability for color control and let you print bigger, brighter prints. Most businesses do not need large prints, and it would be a waste of money to use an A3 copier.
If you would like to get an A3 copier for your business then we can set you up with the perfect solution at Copier Leasing Center. We have the best copier deals around and can get you a fair lease deal today.
You'll Get a Real Quote in Under 2 Minutes!