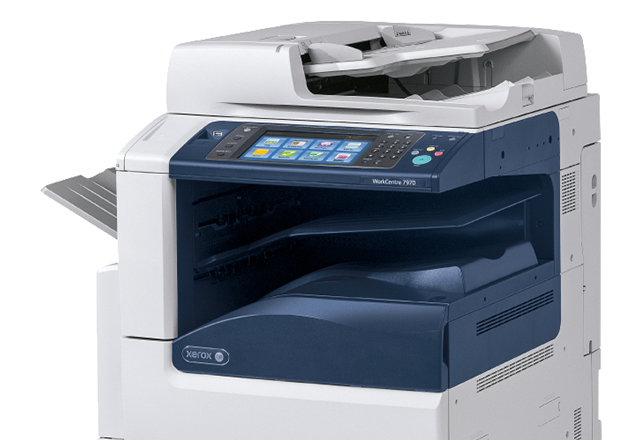 Overview of the WorkCentre 7970
A multifunctional printer that can copy in both legal-size and tabloid-size paper, the WorkCentre 7970 offers you the latest version of the Xerox ConnectKey Technology, and you have an ultra fast printer, scanner and copier. The email feature will also help to enhance your productivity. With the Xerox WorkCentre 7970, you can print as many as 70 pages per minute in color, and you can print up to 70 pages per minute in black and white.
Featuring a monthly duty cycle of 300,000 images per month, you can rest assured that you have a copier with excellent print capabilities. The maximum print resolution is 1200 x 2400 dpi, which means that you have vibrantly detailed images.
When it comes to the optional features, you have the walk-up fax, and you can also take advantage of the Xerox Integrated RFID Card Reader. The hard drive boasts more than 250 GB of RAM, which means that you can store images and important files as needed. Featuring a 2 GB system with a 1 GB page of memory, you have a solid copier that will have tons of room for memory. If you do run across problems, you have the online support community that will give you access to the print driver and control panel.
In terms of copying, you have a 600 x 600 dpi, and there are copy features that make this a great printer. Because of the automatic duplex feature, you can maximize the space on your pages for the best results. The Xerox WorkCentre 7970 does a lot of interesting things that will make everything worthwhile.
You'll Get a Real Quote in Under 2 Minutes!