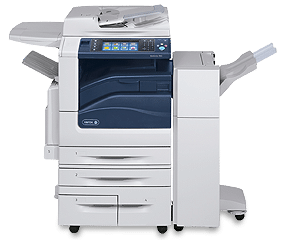 The Xerox WorkCentre 5300 Series has a 110-sheet automatic duplex capabilities as the standard. You will also have access to a large color touchscreen, and this makes it easy to troubleshoot if you ever run across problems. In terms of copiers in the WorkCentre 5300 Series, you have the WC5325/C, WC5330/C and the WC5335/C. The prices for these copiers are:
WC5325/C—$6,100
WC5330/C—$7,100
WC5335/C—$8,100
What's great about these copiers is that you also have other optional functions like the walk-up fax and the Xerox Integrated RFID Card Reader. Looking at the print speeds, the WC5325 can print up to 25 pages per minute, which makes it ideal for that smaller to medium-size office. Meanwhile, you have the WC5330, which prints around 30 pages per minute, and you have the WC5335 and that can print up to 35 pages per minute.
Your starter toner cartridge has a capacity of around 11,000 pages, which means that you can get a lot of copies off these printers before you will have to replace them. Boasting a monthly duty cycle of around 100,000 images per month, you will have the ability to print a lot of volume as needed. The warm-up speed is also incredibly impressive considering that the first page will come out in under 4.2 seconds in black and white. There is also an automatic duplex feature that can print on both sides of the page, and you have the option to create a booklet. For further information on the Xerox WorkCentre 5300 Series, please contact Copierleasecenter.com.
You'll Get a Real Quote in Under 2 Minutes!