My Copier Keeps Streaking, Make it Stop!
If you have a copier with print quality issues, namely streaking, you may be looking for a solution. Do you need new toners, new drums, a new fuser? How do you get your copier or laser printer to have solid image quality?
We help clients with thousands of printers and copiers, and one of the most common complaints is bad image quality. This is true from a small desktop hp printer to a larger production printer. No one likes to have streaking issues from their copier.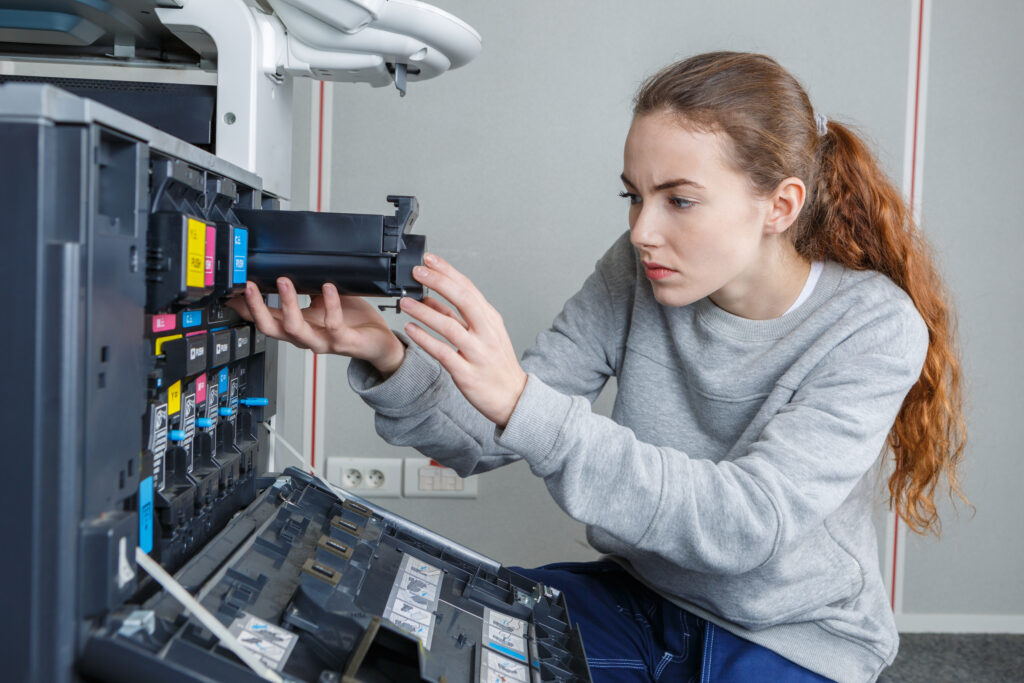 If you have streaking from your copy machine, this article will help you determine where the problem is coming from.
Most common cause – drum unit (Also called drum cartridge, or opc drum kit)
The reason why this is the most common print quality issue is because the drum is what transfers the image to paper. It is a cylinder so, it will likely repeat or be something like a line or a streak down the page.
If it is not adhering or blotchy, then you aren't having a drum issue.
One exception to the like issue is if you are using a multifunction printer and there are lines all the way down the page only when you do copies or scans and not when you print. If this is your situation, the glass and the scanner needs to be cleaned. The image drum is not the problem. The scanner glass is causing your issue. You would need to make the copy through the document feeder to really see the impact.
I would run a print, then copy the print if it was clean when printed. Then if you see lines, you know the printing engine is doing just fine.
Grab some glass cleaner and really clean the copier's glass area where the document feeder is.
If you have an inkjet printer, this does not apply to your since inkjet printers do not use image drums. The inkjet printer will use a print head attached to the ink basin and not even use imaging units.
The solution if you find it is indeed the drum unit IS NOT taking a damp cloth to it. It is something you will need to replace to get the printer doing the print job clean again.
Testing procedure for copier streaking –
Make a normal print, look for streaks.
If no streaks, take that print, and run through the document feeder. If no streaks, then you have a strange issue now. You'll probably need a technician or have your company who does your service contract come out.
Next, look at the paper you are using and the paper settings. You will have issues if you load super thick paper and tell the print driver it is normal printing.
If it is a "blotchy" we generally see that issue when the fuser is having issues.
We would encourage all people to have a supplies and service plan so they can call when issues like these arise. We work with clients all over the USA with printer and copier leasing plans.
Simply let us know your current printer model and what you are doing so we can get you printing well asap.
You'll Get a Real Quote in Under 2 Minutes!