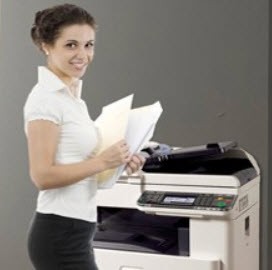 Our national sales force is ready to help your growing business meet its copying needs with a copier lease that makes the most financial sense for you. We cater to businesses located in small villages such as Cooperstown and Waterford as well as those in large cities like New York and Buffalo. Once you fill out our form and e-mail it to us with some details about your copying needs, we will respond with an estimate later that day.
After we speak and determine what type of copier and what type of lease would best fit what your company needs, we will ship you a printer so that it arrives at your business the following day. This overnight service is available to companies situated in smaller, more remote areas like Potsdam and Hamilton as well as those located in large metropolitan areas.
Also, if you encounter any unexpected mechanical issues after you receive your new copier, we will make sure that those get taken care of as quickly as possible.
We look forward to hearing from you and assisting you throughout this process.
Leasing a Copier in New York City
Live in New York City and need a copier? We understand this. According to some studies, business owners lease approximately 80 percent of their office technology, and in an industry where a vast majority of products are leased, wouldn't it make sense to lease from a trusted company? We provide service technicians across the United States and use authorized Xerox service technicians to guarantee expertise.
Before you sign that lease, you have to ask yourself, who has this lease been written to benefit? The most common problem associated with lease renewals occurs when the lease should have ended, and the company renewed the lease for a predetermined period of time. Always notify your company three to six months in advance and keep proof. Also, be wary of low rates. Many businesses offer teaser rates to allure companies into doing business with them, but after they have signed the lease, they hit them with loads of extra fees and hidden payments. This is shady business practice, and we find it unacceptable at our New York City location.
We believe office technology providers should have their customers' best interests at heart. When we examine your needs, we will help you to determine the best choice for your office. When you look at a lease, make sure it benefits you, and if it does not provide any benefit, look elsewhere. Contact us for further information.
Thinking About Leasing or Buying a Great Copier in New York?
Business owners often visit us wondering where they can find a fantastic copier at a competitive price. We can help! We have helped hundreds of businesses over the years to discover the perfect copier to fit their needs. Emphasis on their needs. The perfect copier will depend on what helps you to reach your business goals more easily. Any copier company can sell you a copier, but not every company will sell you the right copier or support you when you need it most.
Here at our New York City servicing dealership, we take pride in knowing that we are providing our customers with some of the best support in the city. Our technicians will be there when you need them. We will never make you wait three to four business days for service. You could be out of business by then. Why should you choose us?
Unparalleled Expertise
Experienced and Qualified Technicians
Best Prices in the Industry
Support That Keeps Your Business Running
At our company, we understand the value of experts in the know. You want someone who can guide you through the process in a quick and painless fashion without a loss of quality advice. When most business owners go to purchase a copier, they are looking to get a copier that meets their goals without a huge disruption in their business while searching.
See other areas we serve.
Looking for copiers in North Carolina?
You'll Get a Real Quote in Under 2 Minutes!