Current Copier Lease Rates
If you are looking to lease a copier, knowing what the lease rates are for businesses with better than average credit is good to know as a slight differential in the lease rate factor can add up quickly.  For example, if your current leasing company is offering a lease rate factor of .023 for a 5 year FMV lease, it is good to know other leasing companies are offering lease rates at .0194 – Why?  Because on a $10,000 copier that works out to be $29 a month for 5 years.  Approx $1800 difference.
Fair Market Value means that you return the copier at the end of the term.  $1 Purchase Option means that you own the copier for $1 at the end of the lease term.  The uncommon one is the 10% Guarantee Lease – This means that the customer can buy the copier at the end of the contract, after all scheduled payments have been made, for 10% of the original purchase price.  This type of Lease is intended for when your business thinks the copier will be worth more than 10% of the original value – you actually want to keep it – and you require lower payments right now.
That being said, here are the current copier lease rates: (Multiply Lease Factor by Equipment Costs to get monthly payment.  If you have been given a monthly payment and are trying to figure out initial costs, this chart can help too.  You'd divide the payment by the lease rate factor to get the Equipment Costs.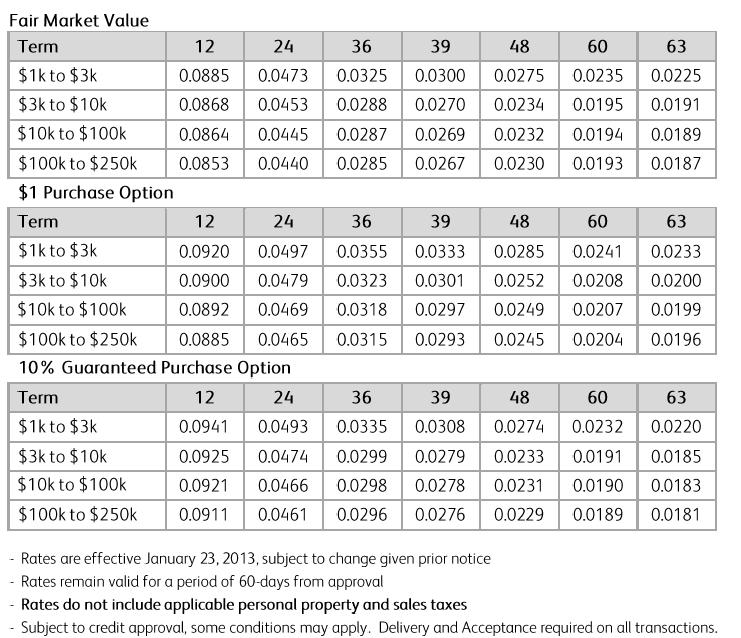 If you have any questions about our wholesale pricing program, please give us a call!